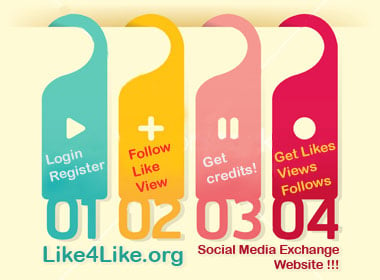 Join from the top banner click and register yourself. You will get a verification code on your email inbox and you will get registered. After registration login yourself. You will get a verify option to click and verify your account with like4like
Like4like is one of the most popular social media exchange platform in this world. It has been implemented from an university group of students. This is a beautiful program to increase the social media signal by the active profile based method. Here interaction is real. Like you are a beautiful model and you want that people wants to see you more. You have uploaded your picture on Facebook, Twitter, Instagram, You Tube and many other social media platforms. Than you have been set up all of the uploaded links to like4like platform. You have previously points in account. So credits will be deduct for every social media signal from your like4like account as per your set up. You can check the down video for more.
To earn credit point- the social media site list
The Services you can add on these social media platforms.
Details instruction by video. If you have any confusion or any thing need to know more kindly comment on this post or send me an email: centjoseph001@gmail.com